(this article contains affiliate links that can earn us a small commission at no extra cost for you)
Today, I want to dive deep into the Donner Tutti Love Chorus Pedal Review, a compact yet powerful addition to the chorus pedal family. Let's get right into it!
Features
This Chorus Pedal boasts an array of features that make it stand out in the world of guitar effects pedals:
Carefully Selected Components: Donner has left no room for compromise when it comes to quality. The pedal is crafted with top-tier components to ensure exceptional sound and durability. Its aluminum alloy casing not only looks sleek but also ensures reliability, even during intense tours. Additionally, the True Bypass circuitry guarantees a transparent tone, ensuring your guitar's natural sound shines through.
Easy Controls, Wide Flexibilities:It keeps it simple with just three controls – Rate, Level, and Depth. These controls provide a wide range of flexibility, allowing you to fine-tune your chorus effect precisely to your liking.
Classic Chorus Sound: This pedal features a pure analog design, delivering the smooth, natural chorus tones cherished by jazz, rock, and pop artists for decades. Whether you're looking to recreate that classic '80s shimmer or add depth to your modern sound, this Chorus has you covered.
Specifications:
Power Requirement: 9V DC center negative
Current Consumption: 11mA
Dimensions: 42×93.5x52mm
Weight: 230g
My Pros and Cons about the Tutti Love Chorus Pedal
Pros
Exceptional Sound Quality: In my opinion, the standout feature of this Donner Chorus Pedal is its sound quality. It's no exaggeration to say that this pedal rivals more expensive options. The analog design produces a lush chorus effect that can elevate your guitar's tone to new heights.
Responsive Controls: I appreciate pedals with controls that react precisely to my adjustments, and it doesn't disappoint. The Rate, Level, and Depth knobs are highly responsive, allowing you to dial in the perfect chorus effect with ease.
Compact and Sturdy: The micro compact design doesn't compromise on build quality. It feels like a tank, ready to withstand the rigors of live performances and studio sessions. Plus, its small footprint means it won't hog space on your pedalboard.
Cost-Effective: One of the pleasant surprises with this pedal is its affordability. Considering the sound quality it delivers, it's a steal at its price point. If you're looking to enhance your guitar's sound without breaking the bank, this pedal is an excellent choice.
Click here and check all the Features of the Donner TUTTI LOVE here (included 30-days risk free trial, fast delivery and current offers)
Cons
Subtle Effect: While the subtlety of the chorus effect is a pro for many, it might not suit those seeking an extremely pronounced modulation. If you're after an over-the-top, psychedelic chorus, the Tutti Love might not be your first pick.
Limited Features: Some guitarists prefer pedals with extensive modulation options, presets, or additional effects. The Tutti Love keeps it simple with its classic chorus sound, which could be seen as a limitation if you're looking for more versatility.
Review Highlights
In short, this Chorus has earned a solid place in my collection. Its exceptional sound quality, responsive controls, and sturdy build make it a reliable companion for any guitarist. Whether you're chasing that timeless '70s and '80s chorus sound or want to add subtle depth to your music, the Tutti Love delivers.
Donner, known for offering budget-friendly yet high-quality pedals, has hit the mark once again. For the price, it's challenging to find a chorus pedal that matches its performance. If you value simplicity, reliability, and great sound in your guitar effects, this pedal deserves a spot on your pedalboard.

CHECK OUT THE DONNER TUTTI LOVE FOR YOUR PEDALBOARD – CLICK HERE NOW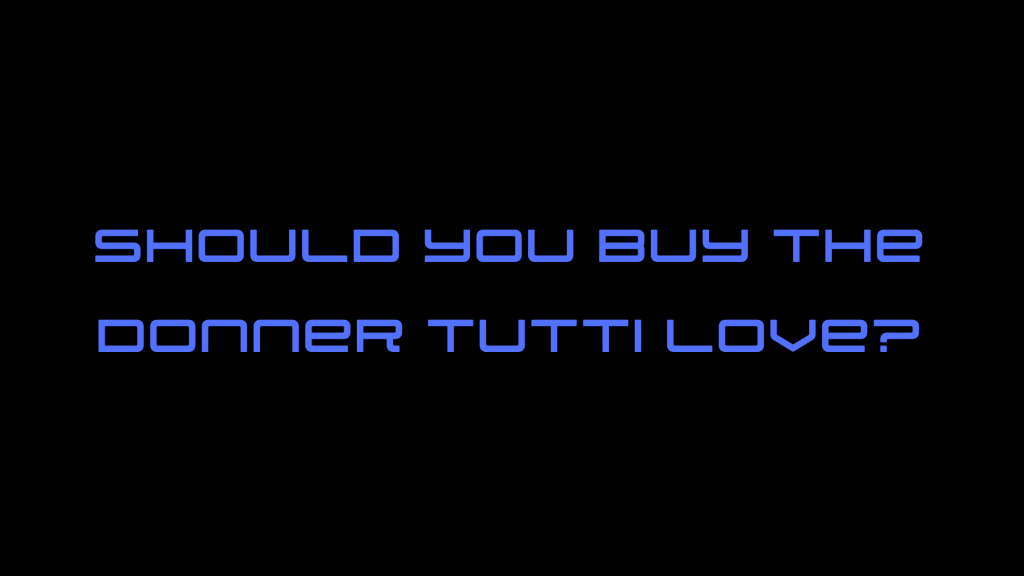 Review Highlights: Why You Should Buy the Donner Tutti Love Chorus Pedal
If you're in the market for a chorus pedal that delivers exceptional sound quality without breaking the bank, this should be at the top of your list. Here's why it deserves a place on your pedalboard:
1. Exceptional Sound Quality: The Tutti Love's pure analog design produces a chorus effect that's both smooth and natural. It captures the essence of classic '70s and '80s chorus tones, making it perfect for genres like jazz, rock, and pop. Whether you're playing clean arpeggios or pushing your amp into overdrive, this pedal enhances your guitar's sound beautifully.
2. Affordable Excellence: Donner has a reputation for offering high-quality pedals at budget-friendly prices, and the Tutti Love is no exception. You get premium sound and build quality without the premium price tag. It's a cost-effective way to elevate your music.
3. Responsive Controls: Guitarists love pedals that respond precisely to their adjustments, and the Tutti Love delivers on this front. The Rate, Level, and Depth controls allow you to fine-tune your chorus effect to perfection. Whether you want a subtle touch or an immersive modulation, you have complete control at your fingertips.
4. Compact and Sturdy: The micro compact design of the Tutti Love doesn't compromise on durability. It's built like a tank, ready to withstand the demands of live performances and studio sessions. Its small size also means it won't hog valuable space on your pedalboard, leaving room for other effects.
5. True Bypass: The inclusion of True Bypass circuitry ensures that your guitar's natural tone remains untouched when the pedal is turned off. This feature is crucial for preserving your core sound and ensuring a transparent bypass.
CONCLUSION OF THE DONNER TUTTI LOVE PEDAL REVIEW: is it WORTH IT AT ALL?
In conclusion of this Donner Tutti Love Chorus Review, this small pedal is a fantastic choice for guitarists who appreciate simplicity, affordability, and great sound quality. Its classic chorus tones, responsive controls, and robust build make it a reliable addition to your gear. However, if you crave extreme modulation or additional features, you may want to explore other options. Ultimately, your choice should align with your musical preferences and needs, but based on my experience, the Tutti Love is a solid investment for enhancing your guitar tones.
---
RELATED DONNER REVIEW ARTICLES