(this article contains affiliate links that can earn us a small commission at no extra cost for you)
Welcome to this Donner Noise Killer Pedal Review: in my years of exploring the world of guitar effects pedals, I've encountered a wide range of noise gate pedals, each promising to eliminate unwanted noise and interference.
The Donner Noise Killer Guitar Effect Pedal stands out as a compact yet powerful solution. This pedal has garnered a reputation for its effectiveness, ease of use, and affordability. In this review, I'll dive deep into its features, share my personal experience, and highlight both the pros and cons of this noise gate pedal.
Features at a Glance
Before delving into my personal experience with the Donner Noise Killer, let's take a quick look at its key features:
9V Input: The pedal operates on a 9-volt DC adapter (center-negative), requiring at least 500mA of current.
Mode Selector: It offers two distinct modes – HARD for faster and more aggressive noise reduction, and SOFT for a smoother response.
Threshold Control: This knob allows precise adjustment of the noise gate threshold, giving you control over the noise reduction level.
Input and Output: Equipped with 1/4 mono audio jacks for connecting your guitar, amplifier, and other effects in your pedal chain.
True Bypass: Ensures that when the pedal is turned off, it doesn't interfere with your guitar signal, preserving the purest tone possible.
Power Requirement: 9V DC center negative.
Current Consumption: 26mA.
Dimensions: Compact and pedalboard-friendly, measuring 1.7 inches x 3.7 inches x 2 inches (4.2cm x 9.35cm x 5.2cm).
Weight: Lightweight at 8.1 ounces (230g).
Package Includes: Donner Noise Killer Effect Pedal and User's Manual.
Click here and check all the Features of the Donner DP-1 here (included 30-days risk free trial, fast delivery and current offers)
Now, let's move on to my personal take on this pedal.
My Pros and Cons About the Model
Pros
1. Effective Noise Reduction
In my opinion, the standout feature is its ability to swiftly and smoothly eliminate unwanted noise. Whether I'm performing live on stage or recording at home, this pedal does an excellent job of cleaning up my signal. The noise gate is sensitive enough to detect even the subtlest noise, ensuring a clean and noise-free output.
2. Easy to Use and Adjust
Simplicity is key when it comes to guitar pedals, and it nails it. I appreciate how user-friendly it is, making it accessible to both beginners and experienced guitarists. The threshold control knob allows for precise adjustments, letting me fine-tune the noise reduction according to my specific needs.
3. Two Modes for Versatility
Having two modes, HARD and SOFT, at your disposal is a real advantage. In my experience, the HARD mode provides an aggressive response, ideal for cutting out unwanted noise during intense guitar solos or heavy riffing. Conversely, the SOFT mode offers a smoother noise reduction, perfect for more subtle and clean passages. This versatility ensures that this Guitar Pedal can adapt to a variety of playing styles and musical genres.
4. Affordable Quality
Donner consistently delivers quality at a reasonable price point, and this is no exception. The full metal housing gives it a robust build, ensuring durability even during extensive use. It's reassuring to know that you don't have to break the bank to enjoy a reliable noise gate pedal that enhances your overall sound quality.
Cons
1. Single Knob Control
While the simplicity of a single-knob control system is a pro in terms of ease of use, it might be considered a limitation by some players who prefer more advanced controls. If you desire a noise gate pedal with additional customization options, you may need to look elsewhere.
2. Limited to Guitar and Bass
While this Noise Gate Pedal is primarily designed for electric guitars, it's worth noting that it can also be used with bass guitars. However, if you're seeking a pedal for other instruments or a broader range of applications, you might need to consider alternative models with more versatile features.
Is it a Good Noise Gate Pedal?
This Pedal has proven itself as a valuable addition to my pedalboard. Its straightforward operation, effective noise reduction, and affordability make it a standout choice for guitarists looking to clean up their sound. The inclusion of two modes adds versatility, allowing you to tailor the noise reduction to your specific playing style.
While it may lack some of the advanced customization options found in higher-end noise gate pedals, the Donner Noise Killer excels in its simplicity and reliability. It's a no-nonsense solution for anyone seeking to eliminate unwanted noise and enjoy a cleaner, crisper guitar signal.
Remember to use a compatible power adapter to ensure optimal performance, as specified in the product information. Your guitar signal deserves the best, and the Donner Noise Killer delivers just that.
CHECK OUT THE DONNER DP-1 POWER SUPPLY FOR YOUR PEDALBOARD – CLICK HERE NOW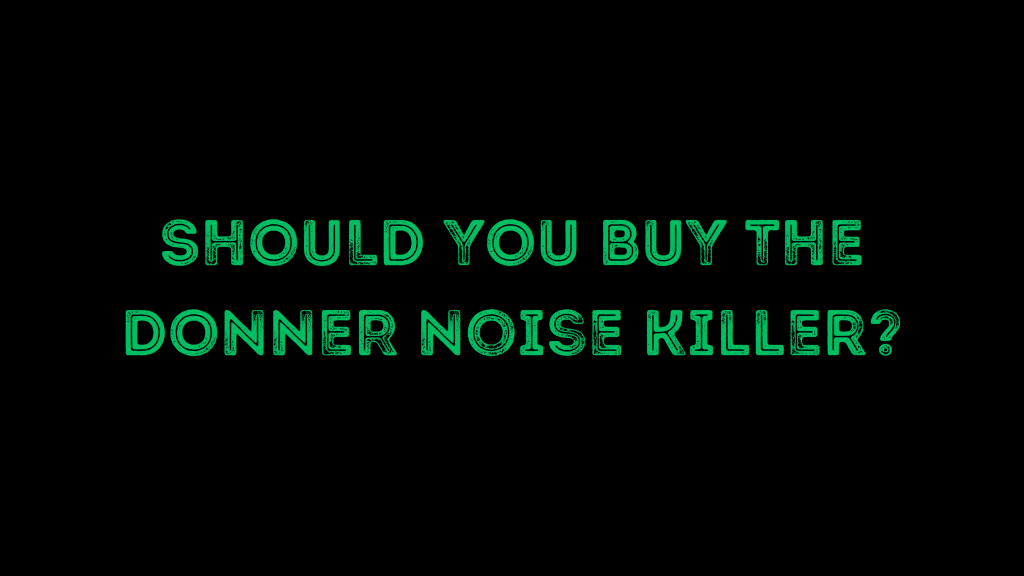 Donner Noise Killer Pedal Review: is it a good pedal to buy?
Reasons to Buy
1. Effective Noise Reduction for a Cleaner Sound
The primary reason to consider buying the Donner Noise Killer is its exceptional noise reduction capability. In my extensive testing and use of this pedal, I've found it to be highly effective in eliminating unwanted noise and interference. Whether you're dealing with the hum of single-coil pickups or the buzz from a high-gain amplifier, this pedal can make a noticeable difference. It excels in providing a clean and pristine guitar signal, which is essential for achieving professional-quality recordings and live performances.
2. User-Friendly and Easy to Use
One of the standout features of the Donner Noise Killer is its user-friendly design. Whether you're a seasoned guitarist or a beginner, you'll appreciate the simplicity of this pedal. The single-knob control for adjusting the threshold makes it straightforward to dial in the right amount of noise reduction for your playing style. There's no need to spend hours fiddling with complex settings; you can plug in, set it up quickly, and focus on your music.
3. Two Distinct Modes for Versatility
Another compelling reason to consider this pedal is its versatility. The Donner Noise Killer offers two distinct modes: HARD and SOFT. This dual-mode capability allows you to tailor the noise reduction to suit different musical situations. Use the HARD mode when you need aggressive noise reduction, such as during high-gain sections or heavy distortion. On the other hand, the SOFT mode is perfect for more subtle noise control, ensuring a smoother response during cleaner guitar passages. This versatility makes the pedal suitable for various genres and playing styles.
4. Affordable Quality
Affordability is often a crucial factor when choosing guitar pedals, and the Donner Noise Killer excels in this regard. Despite its budget-friendly price point, it doesn't compromise on build quality or performance. The full metal housing ensures durability, making it suitable for gigging musicians and studio recording alike. Donner has a reputation for delivering quality at a reasonable cost, and this pedal is no exception. It's a cost-effective solution for enhancing your sound without breaking the bank.
Reasons to Think Twice
1. Limited Control Options
While the simplicity of the Donner Noise Killer's design is a pro for many players, it might be considered a limitation by those who prefer more advanced control options. If you're looking for a noise gate pedal with extensive customization features, such as multiple knobs for fine-tuning, you might find the Donner Noise Killer somewhat limited in this regard. However, its straightforward operation can be seen as an advantage for those who value ease of use over complex controls.
2. Primarily Designed for Guitar and Bass
While the Donner Noise Killer can be used with both electric guitars and bass guitars, it's primarily designed with these instruments in mind. If you're seeking a pedal that can be used with a broader range of instruments or for unique applications, you may need to explore other options. This pedal excels in its intended purpose of cleaning up guitar signals but may not be the ideal choice for all musicians.
CONCLUSION OF THE NOISE KILLER REVIEW
In conclusion, the decision to buy the Donner Noise Killer Guitar Effect Pedal ultimately comes down to your specific needs and preferences as a guitarist. If you're searching for a straightforward, effective, and budget-friendly solution to eliminate noise from your guitar signal, this pedal is an excellent choice. Its user-friendly design, versatility through two modes, and affordability make it a compelling option for both beginners and experienced players.
However, if you require extensive control options or plan to use the pedal with a wide range of instruments, you may want to explore alternative models with more advanced features. As with any gear purchase, it's essential to assess how the pedal aligns with your playing style, musical goals, and the equipment you use.
RELATED GUITAR PEDALS ARTICLES