the truth about Pianoforall's popularity
SO YOU WANT TO LEARN THE PIANO OR THE KEYBOARD?
Have you ever wanted to be "that guy" at the party?
You know who: The guy who can walk into the party, see a piano there and just casually start playing it, impressing everyone on site.
You may have played piano as a kid and now want to get back into it, maybe you have that drive in you to make your own music, or perhaps you already play and want to enhance and upgrade your skills. Well, the website we're reviewing today is designed to help you do just that – start learning and playing piano.
Before we start with the review, pat yourself on the back for opting to learn the piano. The piano is truly a magical instrument. Learning and eventually mastering this instrument is a wondrous journey that you will be glad you embarked on.
As the famous quote goes, "The keys of a piano are black and white, but they sound like a million colors in your mind."
Don't worry about it "being too late" or "not having enough time": it's never too late to pick up a new instrument, and this statement is backed by both music teachers and neuroscientists. The brain can learn and retain new information, no matter how old you get.
If managing time is an issue, then you really have to figure something out. Trust us, the satisfaction that you will get after successfully playing your favorite song on the piano will far outweigh the task of clearing your schedule to learn, and a good learning program is the one provided by Pianoforall course.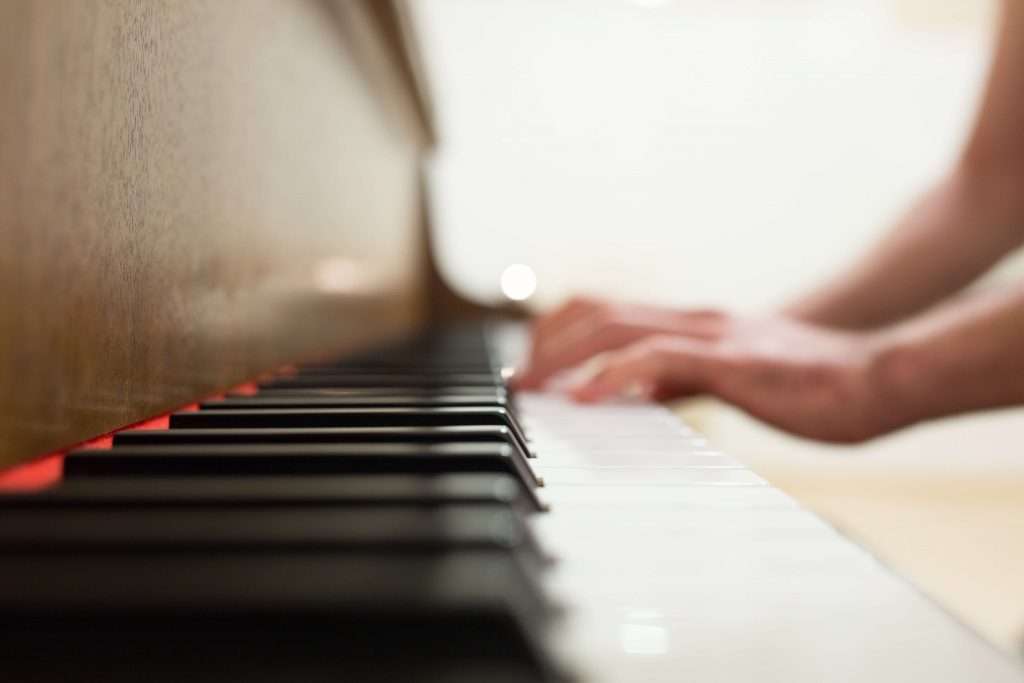 WHAT IS PIANOFORALL?
To kick off Pianoforall reviews, let's get to know the program of these piano lessons.
Pianoforall, created by professional pianist Robin Hall, is an online piano course for, as the name suggests, all students, regardless of their current piano skills. It was started in 2006 to provide fun, easy, high-quality piano lessons to students worldwide, and it has done precisely that.

Over the years, Pianoforall has helped hundreds of thousands of students all across the world achieve their dreams of learning and playing the piano. It was revised first in 2013 and then again in 2020 to keep it fresh and up to date. According to its customers, Pianoforall is one of the most "logically structured" courses available. Pianoforall is currently one of the most talked-about and recommended courses to learn the piano online.
Today we will be checking out this renowned program to see if it holds up to the hype it has garnered online.
THE CREATOR OF PIANOFORALL: ROBIN HALL
Robin Hall is the creator of Pianoforall: he is a professional pianist and cartoonist with plenty of years of experience creating art and teaching people how to do the same.
He believes that learning should be fun, and he incorporates that into his courses and lessons. His book, "The Cartoonist's Workbook", mixes essential knowledge about cartoons with humor and storytelling to make a practical guide for aspiring cartoonists. In the same way, he has made Pianoforall a fun learning experience that actually works.
ABOUT THE COURSE
The basic concept of Pianoforall is to focus on playing music "by the ear" rather than get caught up in the theoretical part of things.
Being an online course, you get instant downloads of the course material. The course material starts off with 9 interactive e-books in EPUB3 format. These e-books consist of multiple genres and styles of piano, which are supposed to get you playing popular songs right off the bat.

The titles of the e-books are as follows:
●     Party Time (Rhythm Style Piano)
The first book in the course gets you started with the basics; chords, rhythms, notes, etc. After clearing your basic knowledge, you learn how to start playing piano as a beginner with some popular melodies.
The main focus is on chords and rhythm, as they're the basic foundations for every musician.
●     Blues & Rock n Roll
Next, you will learn some blues rhythms and twelve-bar blues. A major point of focus in this book is playing with your left hand and making it come naturally.
●     Chord Magic
Moving on, in the third book, you will learn the chords and inversions of each key. The third book also teaches the important concepts of the circle of fifths and the circle of fourths.
●     Advanced Chords
As the title suggests, in book 4, you learn advanced chords in an easy manner with the help of a bunch of practice progressions, techniques and knowledge, all imparted in a fun way.
●     Ballad Style
Book five teaches you how to play ballad-style music, and here you will learn the skills required to improvise and create your own melodies and compositions.
●     All That Jazz & Blues
In the sixth book, you will be given some techniques that can be applied to any jazz tune to make playing jazz a breeze.
●     Advanced Blues & Fake Stride
The seventh book goes deep into the skills taught in the previous book and shows you how to improvise blues using the rhythms you've already been taught.
●     Taming the Classics
In the penultimate book, you really get into the theoretical aspect by learning how to play sheet music. In addition, you will be able to play well-known classical pieces from the likes of Beethoven, Mozart, Bach, and many others.
●     Speed Learning
Coming to the last book, you will learn scales, memory tricks, and exercises that will help you speed up your progress on the piano.
The e-books come with embedded videos and audio, so you don't have to click on links and get redirected to other places. You get it all in one place. There are 500 embedded audios and 200 video lessons. Along with this, the course offers you fast email support and lifetime free updates. You get all this for a one-time payment, no additional charges.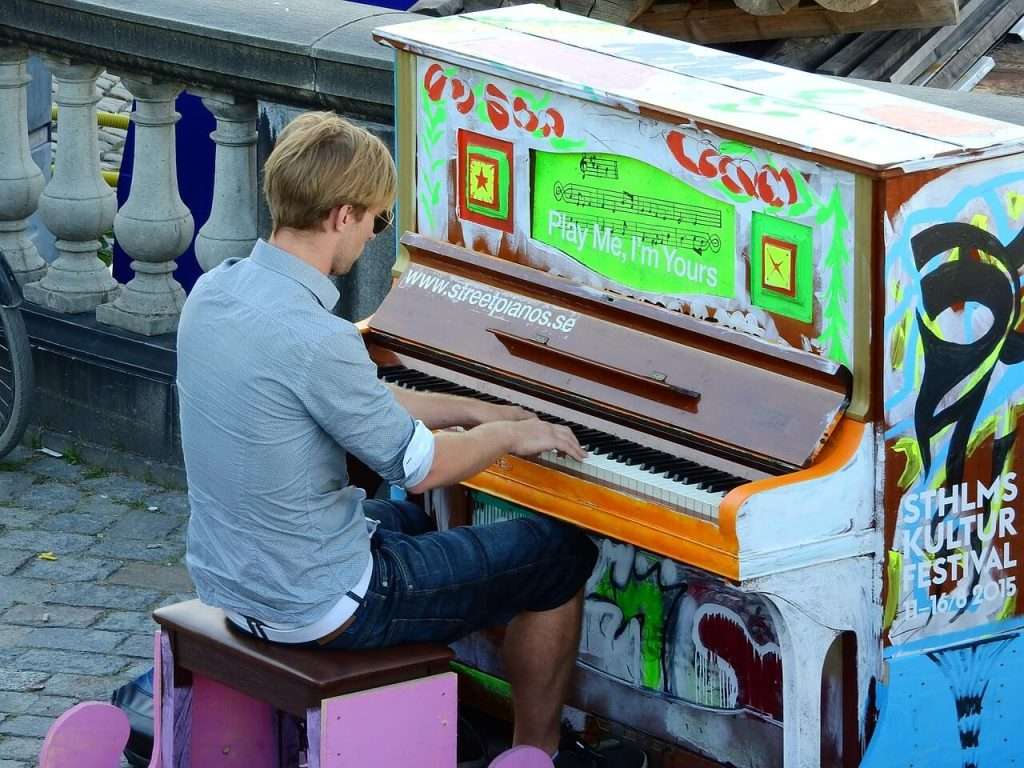 PROS AND CONS
Now that you know what the course is and how it works, let's take a quick look at the pros and cons of the Pianoforall course to help you make your decision.
Pros
The e-books provided come with videos and audio embedded in the books, which makes learning a breeze.
Pianoforall promotes your natural talent and focuses on the "feeling part" of music, rather than burdening you with sheets.
The information is provided in a unique, interesting, and easy to understand way, which makes learning fun and engaging.
Cons
To be honest, we can't really see any glaring faults in Robin Hall's lessons. However, if we were to nitpick, then we could say that the program could integrate more theoretical and technical parts of music into its curriculum. While "playing by ear" is great and fun, we can't forget the importance of in-depth technical understanding of music and how beneficial it can be.
HOW TO CHOOSE PIANO LESSONS: USEFUL TIPS
Look for beginner-focused lessons
When you start, you would probably have better results with lessons designed specifically for you and not general lessons just sticked together without a cohesive structure: those will give way better results and help you not feel frustrated with missing topics, skipped steps and stuff that might be a good fit for you but can also require a bit more focus and in-depth explanation;
2. Keep in mind your learning style
Some people prefer a learning style focused on visual content such as video tutorials and Youtube-style guides while other prefer to read long guides with eventually images in the lesson.
Your learning rate will be way higher choosing something that fits your own learning style and will also help you feel more motivated while learning that.
3. Choose an instructor that actually shares his credentials
When learning a new instrument, and even more if you're a beginner as you need a very clear style of explanation and teaching style, it's a great idea to see if the teacher is an experienced teacher and what are his credentials in music and his musical background.
Tip #4: Choose a course that offers a variety of materials and resources.
To keep you engaged and help you learn more effectively, look for lessons that offer a variety of materials, such as sheet music, exercises, and practice tracks.
5. Search other reviews and also see what other students have said about the course
Another great thing to do in order to see if the lessons are good enough is to search for other opinions and feedbacks about the course itself: did other students and users appreciate the explanation style? Did they actually learn something? How was the pace and the quality of the lessons for them?
By following these 5 tips, even if you decide to not take Piano For All course, you will have an easier time by finding your music lessons (actually I feel that those things are good enough even for online lessons in general whatever the topic is, even if it's for woodworking or making some cakes, as searching more unbiased info is a great way to find out about the actual quality of that thing).
FINAL THOUGHTS ON PIANOFORALL
Coming to a conclusion was pretty easy: the testimonials on their website alone do a great job at selling it.
The truth behind its popularity is that Pianoforall is simply worth the hype and the money you pay for it. If you're looking for online piano and also keyboard programs, we highly recommend Pianoforall as one of the best piano lessons ebook for its unique and exciting approach at teaching the instrument, permitting you to play piano by yourself.
---
RELATED PIANO ARTICLES
Another useful resources is this article talking about the best sites for finding music sheets online (read more here).