Summarized table of the reviews for the best classical guitar models under $500
| Model | Pros | Cons | Price (Check on Thomann) |
| --- | --- | --- | --- |
| Yamaha C40 | – Excellent price/performance ratio – Good and warm sound – Yamaha's quality guarantee | – Lacks in low-end frequencies and sustain – Basic appearance | Check Price |
| Cordoba C5 | – Quality woods for its price range – Balanced sound with good treble and bass – Adjustable truss-rod – Elegant finish and decorations | – Limited dynamics – Mids less pronounced | Check Price |
| Alhambra 1C Black | – Solid top woods for warm sound – Sweet and pronounced body and mid frequencies – Unique black finish | – Limited response to dynamic changes | Check Price |
| Yamaha CG142C | – Full sound with pronounced bass frequencies – Solid cedar top – Good build quality – Comfortable fretboard | – Basic strings – Price difference compared to Yamaha C40 | Check Price |
| Takamine GC5CE Natur | – Classic-electric model with built-in pickup and tuner – Elegant design with Venetian Cutaway – High-quality wood usage – Balanced and versatile sound | – Higher price range | Check Price |
The world of classical guitars is vast and diverse. It's made up of many different types of guitars, all with their own unique characteristics and needs, often used in styles like flamenco, Spanish folk music, Latin american music, or jazz fusion
How many things do you have to consider in order to make a thoughtful and well informed choice about what classical nylon string guitar you can buy?
The quality of an instrument is more than just the sound it produces, it also depends on the materials used to make it, the quality of the parts, but also how is that neck or any other personal preference about this feature or that… that's a true nightmare if you're unsure and don't even know (like me) what to have for dinner.
For this reason in this article we'll see the best choices for some budget ranges (under 500$, under 1000$ and 1500$ and finally under 2000$): this (I hope) will help you getting a classical that will also become a classic in your beloved musician's gear!
What are the best classical guitar models under 500$?
The best classical models under 500$ in my opinion are (click the blue links on each model to read review):
The best for the sound and versatility (that can also be taken for longer and for an intermediate level) is the Takamine GC5CE Natur, at the same level of the Cordoba C5.
The best for the price and its quality/price ratio is the Yamaha C40, a true classic between classical guitarists that can start with one of the cheapest models but with a good quality for the relatively very low starter price.
---
BEST GOOD CLASSICAL GUITARS UNDER 500$ FOR PRACTICE AND ETUDE
1. YAMAHA C40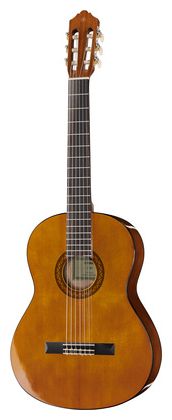 Yamaha is definitely one of the names that are easily recognisable as a brand (along with Fender, Gibson or Ibanez for electric guitar or Cordoba and Ramirez for nylon strings instruments): this basically means that if they're still here and their products are (yet) not being burned in flames then well, they must be a somewhat guaranteed quality brand.
The Yamaha C40 is also a full-sized model (so made for adult players) specifically designed for beginners, and also THE model with the best quality and with the lowest price on the market.
The look is definitely a very standard one (no decorations and other exotic woods or body features) and a traditional headstock with gear tuners, and you have on back and sides the Meranti wood (that has similar tonal properties of mahogany but with definitely lower price) and the Yamaha's typical "Nato" wood on the neck, while (and that's remarkable as that's usually a wood used on more pricey models) rosewood on fretoboard and bridge.
For what concerns the tone and the produced sounds, you get a fairly suprising good sound: you have a warm sound that mainly focuses on high end and mid frequencies, so a bright sound with a noticeable body, but it has a bit lacking bass/low frequencies and not so much sustain, that are the only drawbacks as well as a finish for the guitar wood that may appear as very basic (that is honestly fair at this price range).
MODEL CHARACTERISTICS
Woods: Spruce (Top), Meranti (in the back and the sides), Nato (in the neck), Rosewood (bridge and fretboard);
Width of the nut: 52 mm;
Depth of the body: 43-100 mm;
Scale of the model: 650 mm (25.59″)
MY PROS AND CONS OF THE MODEL
✔ PROS
Definitely good price/performance ration (maybe one of the best);
Good and warm sound, better than a lot of other low priced models (and also other low-range models that are more expensive than this model)
Yamaha guarantee of quality
❌ CONS: – a bit lacking in low end frequencies and a slim sustain;
Finish and appearance may seems a bit "raw" and basic to fairly most people
→→→CHECK OUT THE LOWEST PRICE ON THOMANN NOW
2. CORDOBA C5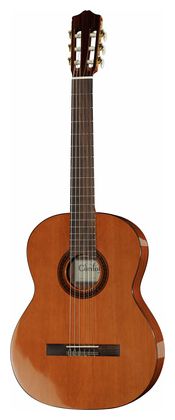 If you're new to classical guitars or just want an affordable option with a good sound quality, the Cordoba C5 is another well worth model to check out.
This guitar has a traditional Spanish construction and is crafted with the quality standard of Cordoba , that you can literally see in the choice of woods that are of high quality despite being a (relatively) low price range: you have a canadian Cedar top and, in the Back and Sides, there is Mahogany Veneer.
The fretboard is made in Rosewood (also the neck as an adjustable truss-rod, a nice suprise for this price range!) and the manifacturing appears to be elegant due to the carved headstock and the hand-inlaid wood rosette (the decoration around the "hole" in the body of the guitar) as well as the nut and saddles made in natural bone (that is great for sustain).
The scale is a typical classical full scale of 650 mm, coming with Savarez strings on board.
The sound has very warm and noticeable bass frequencies and some clear trebles, making an overally good and balanced sound with a great volume (despite the mids being a bit lower compared to others), and it maintains the sound of the notes long enough to say that the sustain is also good.
MODEL CHARACTERISTICS
Woods: Solid Cedar (Top), Mahogany Veneer (Back and Sides and Neck), Pau Ferro (Bridge), bone (Nut and Saddles)
Nut width: 52 mm
Scale: 650 mm
Neck shape: C shape
Machine heads: Gold-plated
MY PROS AND CONS OF THE MODEL
✔ PROS:
Very good choice of woods that you don't always find in this price range for most classical models;
Very balanced sound, great treble and bass and good sustain;
Adjustable truss-rod;
Great finish and decorations
❌ CONS:
Dynamics are limited (as for most guitars at this price) and mids are less noticeable and pronounced while still ok
→→→CHECK OUT THE LOWEST PRICE ON THOMANN NOW
3. ALHAMBRA 1C BLACK SATIN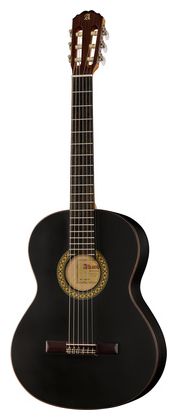 The Alhambra 1C Black Satin is a great option if you're interested in buying an acoustic guitar for classical music that also has a good quality for when you'll reach a more intermediate level: the sound emitted from a Spanish made classical guitar (like all the Alhambra models, made in Alicante's manifacture in Spain) is considered to be warmer (with a more pronounced body and mid frequencies and bass frequencies) and lower, sounding even sweeter than a lot of other competitors brands.
The quality of this particular model also reflects in the choice of the woods, that are all solid tops and not laminate (solid tops are more gives a more balanced and full sound compared to laminate woods) and here you have cedar for the top (and solid cedar is an exception for such a low price, as you mostly see it in more pricier models), Sapele for back and sides and Rosewood for the fretboard.
A particular feature of this model is also the black colour of the guitar instead of the usual "wood colour" and brown colour of the majority of nylon guitars.
MODEL CHARACTERISTICS
Woods: Solid Cedar (Top), Sapele (Back and Sides and Neck), Rosewood (Fretboard and Bridge).
Nut width: 52,00 mm;
Scale: 650 mm
MY PROS AND CONS OF THE MODEL
✔ PROS:
Solid wood used for the top, definitely an exception in the cheap guitars area;
Very warm sound, good sustain and adequate loudness;
Black finish on the guitar makes this great to hear but also great to watch
❌ CONS:
It responds not so well to changes in dynamics, but given the low price range this is something understandable
→→→CHECK OUT THE LOWEST PRICE ON THOMANN NOW
4. YAMAHA CG142C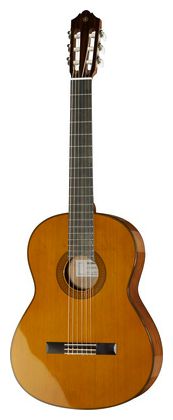 The Yamaha CG142C is another great model from Yamaha that has its strong points and is mainly used for both classical guitar music as well as bossa nova.
Compared to the previously mentioned C40 you get a totally different guitar league quality (not as a concert guitar model but still a huge quality jump compared to the other Yamaha model, considering that the price difference is "only" about 200$, and you can hear all the difference and feel that this price is well worth the difference).
Having said that, both are good for beginners as cheap models but this can also be used for more time and even satisfy a intermediate guitarist that has a smaller budget: the sound has way more body and sound more majestic, the top is made of solid cedar (while side and back are made in their legacy "Nato" wood, I mean having an all solid-wood model would probably make the price rise way more and if you're here that's not what you want I guess).
The sound has more pronounced bass frequencies as well and when playing notes on the thicker strings you definitely feel that difference, so great stuff sound-wise.
Last thing, finishes on this model are usually great, and in my experience (and in the experience of several reviewers on the Web as well) you don't get scratches or awful stuff on this side, maybe just some very small glue residual in some very small places.
MODEL CHARATERISTICS
Woods: solid cedar (top), Nato (back, sides and neck) and rosewood (fretboard);
Nut width: 52,00 mm;
Scale: 650 mm;
19 frets;
Chrome machine heads;
Colour: Natural High Gloss (kinda shiny basically)
MY PROS AND CONS OF THE MODEL
✔ PROS:
Full sound and great body/mid frequencies and also fairly articulated bass frequences: at this price it sounds almost as a concert model for cheaper budgets, obviously it would be better to get an actual concert guitar or luthier made model but money doesn't actually rain, isn't it?!
Fretboard is easy to play and fairly comfortable in the action (you might also need an additional setup depending on how you setup your models obviously, if you don't feel comfortable enough with the out-of-the-factory setup);
Finishes are good and no scratches, bad stuff or ugly mistakes showing on the model (I can't guarantee that some of those won't come out without imperfection but in my and in the Web reviewers situations it doesn't happen mostly);
❌ CONS:
Strings are kind of a basic model, so you might probably need to get another set;
→→→ CHECK OUT THE PRICE ON THOMANN CLICKING THIS LINK
5. TAKAMINE GC5CE NATUR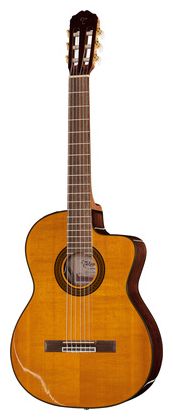 The Takamine GC5CE NATUR (good to see that they sometime even put actual words in a model's name) is from Takamine, so a brand that is mostly known for acoustic models with steel strings, but this nylon string classical take on the guitar topic is definitely not to be ignored actually.
You have to notice that this is a classical model with a built-in amplification system (the Takamine TP4T pickup system) and with built-in tuner system, so it is a classic-electric model in the end.
This is quite at the edge of our price range, but even the look of it are quite elegant with the Venetian Cutaway design (that missing part on the body basically) and the higher price results in a great wood usage, going from solid spruce of the body to black walnut for side and back and mahogany for the neck.
Bridge and fretboard are made in laurel, not so common for a guitar tonewood (from my experience obviously) and this wood has quite rich overtones and good high tones as well as a good midrange, but being used on bridge and fretboard alone make the impact on the tone quite marginal as it's used mainly for those small components and not in the "big areas" of the guitar such as body and back/sides.
MODEL CHARACTERISTICS
Woods: Solid spruce (Top), Black Walnut wood (back and sides), Mahogany (neck), Laurel (Fretboard and bridge);
Nut width: 51,00 mm;
Scale:650 mm
19 frets;
Gold classical model machine heads with buttons made in white perloid style (pearl-white in more simple words);
Colour: Natural High Gloss
Included strings model: D'Addario EJ45
MY PROS AND CONS OF THE MODEL
✔ PROS:
The fretboard feeling is great when you play and quite comfortable to play;
Sound is well balanced and you get deep bass frequencies and a lot of body and mid frequencies, while treble high sounds are great and brilliant but overall this model shines with mid and bass frequencies in my opinion;
This model sound good without amplification and with amplification, and the built-in system does its job quite well, and also the built-in tuner is definitely a useful thing
❌ CONS:
Don't have anything to say against this model honestly, obviously the price is higher so it might be counted as a con for this specific model
→→→ CHECK OUT THE PRICE ON THOMANN CLICKING THIS LINK
CONCLUSION: ABOUT GETTING A CHEAP NYLON STRING GUITAR
One of the most common tips that I've seen around in the guitarist life is that the best model of guitar is the one that will make you feel comfortable while playing it, and it definitely it's a fact.
Before getting a model you should consider for how long you plan to keep that, and also if you're just curious about this instrument or if you're already fallen in love with classical music and you know that this won't be a temporary thing but actually a longlasting love: getting the cheapest thing will be surely great for just starting out playing, but when you advance in your path you will probably need to replace it with another one, while getting a more advanced model will be great even in intermediate roads but also be too much if you don't feel like to continue with the instrument.
I hope that this article helped you somehow with your decision: having said that, have a good play (or a good start in playing guitar for someone) and keep going even if you feel that you're not good enough: practice truly makes everyone a master of craft!
---
OTHER POPULAR BLOG POSTS