How many time did it happen to you?
You feel somehow unfulfilled with your pedalboard and you simply feel like adding another stompbox to your own collection, but at the same time you don't want to actually go to the store and begin a long journey between shelves and store areas for your new pedal research.
Or maybe, you don't even have the money in your wallet yet, but you still want to dream about a new sound that you can add to your rack: is it even possible?
The answer is yes: there are some magic ( well, not magic at all) tools that can let you live your dream right inside your home, and will only require your browser for planning your new pedalboard!
But now let's see how we can achieve this.
TESTING A PEDAL'S SOUND: THE STOMPEMBERG FX
This unique online tool, called Stompemberg FX, gives you a lot of pedal simulations (there are 11 pages full of different models and brands of guitar effects) that you can directly hear from your computer or smartphone.
The first thing you'll see is a page full of different models, where you can either watch and test the stuff that you want freely or also search a specific type, manufacturer or specific model with its name with the search bars above the grid with the different effects.
When you click a specific model, then you'll see another screen full of options as well.
You can hear different samples of riffs (usually subdivided in different genres and styles), record something by yourself and upload a specific riff and also turn the knobs (the image on the left of the pedal is actually interactive, and you can turn the settings and the knobs just like a real pedal, testing a new effect online with your own browser).
---
TESTING THE PLACEMENT OF PEDALS IN A PEDALBOARD
There are other tools for another important aspect of planning a pedalboard: planning how to place the pedals and mainly if the pedals will actually fit within a pedalboard without going out and making a mess with cables and placements.
For this purpose you can try two tools.
The first one is Pedal Playground, that allows you to choose from a huge pool of different pedals and place them into a particular model of pedalboard, watching whether they can fit within that specific model or not.
You can also add a custom pedalboard if there isn't your specific model or if you build custom pedalboard on your own: you can choose the dimension (Width and Height) and then you'll have a copy on your screen where you can place the many pedals available in there.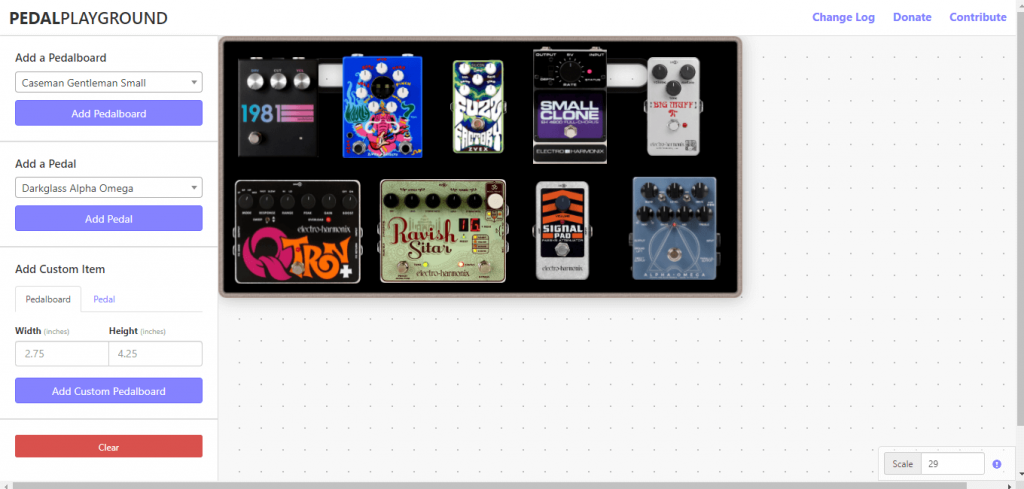 Another tool for this pedal-planning in the pedalboard is Pedalboard Planner, that works similarly and let you choose a pedalboard and then place different models of pedals in the given space.
---
SUMMARY: TESTING PEDALS FOR FREE FROM HOME
You don't have to buy a pedal for hearing its sound, and neither for planning your next pedalboard: you can simply wander through some websites and enjoy the sound of some new stompbox as well as choosing what to buy for practical aspects (the space on your pedalboard, as well as the general sound itself).
Just go online and have fun with this guitar pedals madness!