(this article contains affiliate links that may earn us a small commission at no extra cost for you)
Black metal is a genre where in the beginning the gear didn't matter (and still doesn't matter if you want to achieve the true early Burzum sound by recording your guitar through a broken radio and use your hammer to destroy your amp's speakers in order to achieve a lo-fi black metal KVLT sound).
If you don't like smashing amps, though, you can see our review for the best amp for black metal (starting from the cheapest) and get a cool sound.
Let's dive into the best black metal amps reviews, shall we?
Black Metal Amp 1. Orange Micro Dark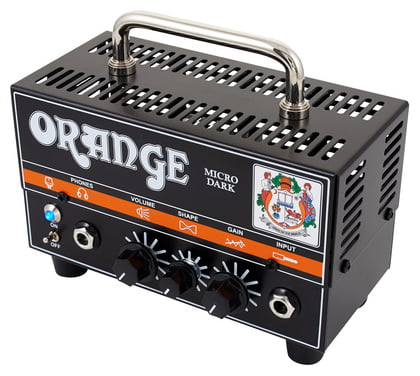 Orange Micro Dark Product link (30 days money-back guarantee and 3 years Thomann warranty)
In my quest for the perfect guitar tone, I recently had the pleasure of testing out the Orange Micro Dark, a compact yet mighty amp head. This little beast packs a punch with its 20 watts of power and a preamp featuring ECC83/12AX7 tubes. In this review, I'll share my firsthand experience with this amplifier for Black Metal, covering both its pros and cons.
My Pros About the Model:
Tonal Versatility: One of the standout features of the Orange Micro Dark is its tonal versatility. I was pleasantly surprised by how it seamlessly transitioned from heavy distortion to raw, natural tones. When paired with a TS9 overdrive pedal, it delivered a sonic spectacle that left me in awe.
Surprising Volume: Despite its 15-watt rating, the Micro Dark produces a remarkably loud and commanding sound. I tested it in an outdoor live setting, with the amp positioned a meter away from the drum kit, and I never needed to push the master volume beyond two. In the studio, it roars like a freight train, making it an ideal companion for both live gigs and recording sessions.
Compact Design: The Micro Dark's small footprint and lightweight build make it incredibly portable. It's a fantastic choice for musicians looking to save space without sacrificing power.
My Cons About the Model:
Lack of EQ Control: One drawback I noticed is the limited EQ control. The Micro Dark features only basic tone, volume, and gain knobs, which may disappoint those seeking extensive sound customization. While it's possible to connect an EQ pedal through the effects loop, I found that it often led to less satisfying results than using the amp's native tone.
Volume Limitations for Home Use: This amp can be a bit too loud for home practice. Even at lower settings, it can overwhelm a small room, making it challenging to achieve that sweet spot without disturbing neighbors or household members. While the amp's 7-watt mode helps, it still might be too much for intimate practice sessions.
Struggles in Larger Venues: In larger venues without mic'd amplification, the Micro Dark may struggle to assert its presence in the mix. While it can hold its own to some extent, it won't be the dominant force on stage, especially if paired with a subpar speaker cabinet.
Conclusion:
In summary, the Orange Micro Dark is a budget-friendly amp head that can also be used for the Black Metal subgenre with a remarkable sound that requires minimal tweaking to achieve greatness.
Its compact design and impressive power make it suitable for various settings, from home practice to smaller gigs, but however, the lack of EQ control and its volume limitations for certain scenarios may be points of consideration for potential buyers.
Nevertheless, for those in search of a versatile, affordable, and portable Black Metal amp head, the Orange Micro Dark is a compelling choice that deserves a spot on your radar.
Black Metal Amp 2. Ampeg RB-210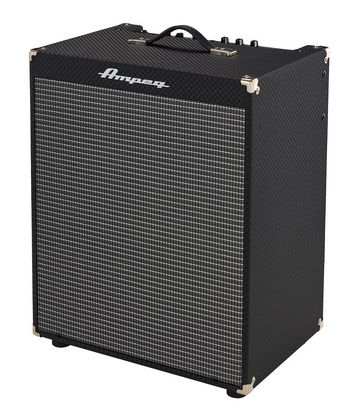 Ampeg RB-210 Product link (with 30 days money-back guarantee and 3 years Thomann Warranty)
Recently, I had the opportunity to put the Ampeg RB-210 Amplifier to the test, and I must say, it has left quite an impression. In this review, I'll dive into the features of this amplifier and share my firsthand experience, including both the pros and cons for Black Metal genre.
Features at a Glance
Before delving into the details of my experience, let's take a quick look at the impressive features of the Ampeg RB-210:
Power: 500 W @ 4 Ohm
Speaker configuration: 2x 10″ Custom Eminence speakers and HF horn (can be switched off)
Preamp with 3-band EQ
Ultra-Hi and Ultra-Lo switch
SGT Overdrive with Grit and Level control (Super Grit Technology)
1x 6.3 mm Jack input 0dB and 1x 6.3 mm jack input -15dB
Aux input
Headphone jack
XLR DI output
Footswitch jack: 6.3 mm jack
Effect loop send and return: 2x 6.3 mm jack
Output for external speaker: 6.3 mm jack
Dimensions: 513 x 654 x 354 mm
Weight: 17.7 kg
My Pros and Cons About the Model
Pros
Tonal Versatility and Clarity
In my opinion, the Ampeg RB-210 truly shines in the tonal department even for this genre. The 3-band EQ provides clear and precise control over the sound, allowing me to sculpt my ideal black metal guitar tone. Surprisingly, I found that even with all EQ settings at neutral, the amplifier produced a clean and well-defined sound.
Ample Power for Most Situations
While it may not replicate the subterranean depths of a 10-second guitar drop, this amplifier has enough punch for Black metal. For those who favor a modern funk sound, the HF horn adds a delightful touch without being overly piercing. On the other hand, if you prefer a more vintage or rock-oriented sound, you can simply switch off the horn and engage the SGT Overdrive, which provides a pleasing grit that can be dialed in precisely to your liking.
Studio-Ready XLR DI Output
The XLR DI output maintains the signature Ampeg coloration and proves to be a versatile tool for both live and studio applications. It captures the essence of your guitar sound beautifully, making it an essential feature for anyone serious about recording or performing on stage.
Cons
Durability Concerns
In my experience, one potential drawback is the durability of certain components. While the overall build quality is acceptable, the numerous delicate metal caps and screws on the corners might not withstand rigorous long-term transportation without sustaining damage. This is a subjective observation but worth considering, especially if you plan to gig extensively.
Limited Low-End Power with 10″ Speakers
Connecting 15″ speakers to the amplifier revealed its true power reserves, and the 10″ speakers suddenly seemed dwarfed. While the RB-210 performs admirably in most situations, especially for its size, the true depth of bass frequencies comes to life through the 15″ speakers. This might not be an issue for many, but it's something to keep in mind if you require earth-shaking lows.
Conclusion
In my personal testing and experience, the Ampeg RB-210 Bass Combo Amplifier has proven itself to be a reliable and versatile companion for black metal guitarists of various styles. Its tonal clarity, power, and studio-friendly features make it a compelling choice for both stage and recording. However, potential buyers should be aware of its durability limitations and the need for larger speakers for maximum low-end impact.
Overall, I'd rate the Ampeg RB-210 Bass Combo Amplifier highly, and I believe it deserves a solid 4.5 out of 5 stars for its performance and features, making it a worthy addition to any black metal player's arsenal.
Black Metal Amp 3. Engl Savage 120 E-610 MKII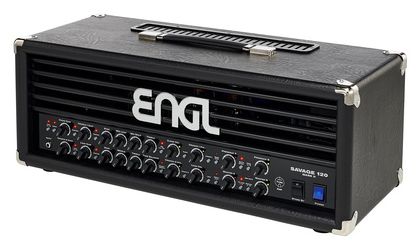 ENGL Savage 120 E-610 MKII Product Link (yeah – with 30 days money-back and 3 years Thomann warranty as usual)
In this review, we'll delve into the ENGL Savage 120 MKII Tube Head Amplifier, a remarkable piece of gear renowned for its versatility and tonal capabilities. We'll explore its features, performance, and provide a balanced assessment of its strengths and weaknesses for Black Metal genre.
The Impressive Feature Set
The ENGL Savage 120 MKII comes packed with a wide array of features designed to cater to a diverse range of musical preferences. Here's a comprehensive list of its key attributes:
4 Channels: Clean, Crunch I, Crunch II, Lead
Power Output: 120 W
Tube-Driven Design: No semiconductors in the signal path
Preamplifier Tubes: 6x Engl ECC83 / 12AX7
Power Amp Tubes: 2x Engl 6550
2 Tube-Driven FX Loops: With separate balance controls
Noise Gate: With adjustable threshold (footswitchable)
Engl Power Tube Monitor
MIDI-In / MIDI thru
Engl MIDI Foot Controller Phantom Power Switch
MIDI Channel Assignment and Controller Enable Switch
Write / Copy: For MIDI programming
All Switching Functions MIDI Programmable: Excluding Power and Stand By
S.A.C.: Serial Amp Control Port
Sound Switching Options: Input Lo / Hi, Bright, Preshape, Contour (Clean, Crunch I), Mid Le./Bo., Depth Boost, Gain Lo / Hi, Contour (Crunch II, Lead), Rough / Smooth
Controls: Gain (separate for each channel), Bass, Mid Lean, Mid Bold, Treble (Clean, Crunch I), Bass, Middle, Treble, Tone Balance (Crunch II, Lead), Volume (separate for each channel), Presence A, Presence B, Master A, Master B
Controls (Rear Side): Noise Gate Threshold Level, FX Loop I Balance, FX Loop II Balance
Outputs: 1 x 4 Ohm, 2 x 8 Ohm, 2 x 16 Ohm, 1 x 16 Ohm
Line Out
Dimensions (W x H x D): 71 x 27 x 29 cm
Weight: 22 kg
Made in Germany
Evaluating the Pros and Cons
Pros
1. Versatile Channel Options
The four channels of the ENGL Savage 120 MKII stand out as a highlight. The clean channel offers crystal-clear tones that can be driven to the edge of breakup without sacrificing clarity. As you explore the channels, you'll find varying levels of gain and saturation, culminating in the lead channel, which delivers rich harmonic saturation with exceptional clarity and note separation. The low-end presence is notably powerful, maintaining tightness even without additional overdrive pedals. It's an excellent choice for high-speed, aggressive metal.
2. Extensive Tone Controls
The wealth of tone-shaping options on this amplifier eliminates the need for external effects pedals. For those who favor footswitches, the ENGL Savage 120 MKII offers MIDI compatibility and two effects loops, making it the central hub of any rig.
3. German Build Quality
The craftsmanship of the ENGL Savage 120 MKII is a testament to German engineering. It exudes durability and reliability, with one minor exception being the rear knob for the noise gate, which could benefit from sturdier construction.
Cons
1. Minor Quality Issue
While the overall build quality is commendable, I did encounter a minor issue with the rear knob of the noise gate, which fell off. It's a minor flaw in an otherwise solidly constructed amplifier.
In conclusion, the ENGL Savage 120 MKII is a versatile and powerful amplifier suitable for a wide range of musical genres, including Black Metal. Its extensive feature set, combined with its robust build quality, makes it an excellent choice for musicians seeking exceptional tone and flexibility. Despite a minor quality hiccup, I wholeheartedly recommend this amplifier to anyone looking for top-tier performance and sonic excellence. Don't miss the opportunity to experience the ENGL Savage 120 MKII's remarkable capabilities.
CONCLUSION: THE BEST BLACK METAL AMPLIFIERS
In this best black metal amplifiers overview we've seen some of the best amplifier models for this subgenre.
As stated in the beginning, though, you can still get away by using almost any amps and a Boss Metal-Zone MZ / Boss Heavy-Metal HM pedal as the Black Metal genre is not very gear-dependant in my opinion.
After all, the most importang thing is to actually play even if you can't afford fancy amps and high budget guitars and amplifiers.
RELATED BLACK METAL ARTICLES