Reading the tabs for a guitar song might be easier than reading an actual music score, but despite the overall easy-to-read notes writing you still can see symbols that are not related to the note itself but rather to how to play that note.
For example one of the most common symbols that you can see very often is the crossed symbol (the "x" that you find on songs tablatures) and that represents a so-called "Ghost note" or "Muted note", and in this post we'll also see how to play those with some images.
You should also notice that the most widely used meaning for that symbol is the first one described in the post (the one that I'll explain right after), but some tabs also use the symbol for the palm-muting (explained toward the end of the post, click here for going to that specific post section)
Those can be seen in the image below (very common in guitar strumming pattern) ↓↓↓↓↓
Or also with a single x (a cross placed on the string that you have to play muted).
What's the difference? the difference is simply that a single x mutes only the string where it is placed, while a whole column of those like in the image means that you have to play all 6 strings but you have to play them muted.
This is the basic explanation, but well, how can you actually play them?
HOW TO PLAY GHOST NOTES AND HOW TO MUTE A NOTE
When you play "normally" you have to press the string down toward the fretboard, right?
The only difference here is that, instead of pressing the string down, you only have to barely touch it with your finger and then still play the note with your pick/finger.
Let's see the difference with the 2 images (very bad photos, yeah) below, shall we?
For the crossed note you should only touch lightly the string though (see image below)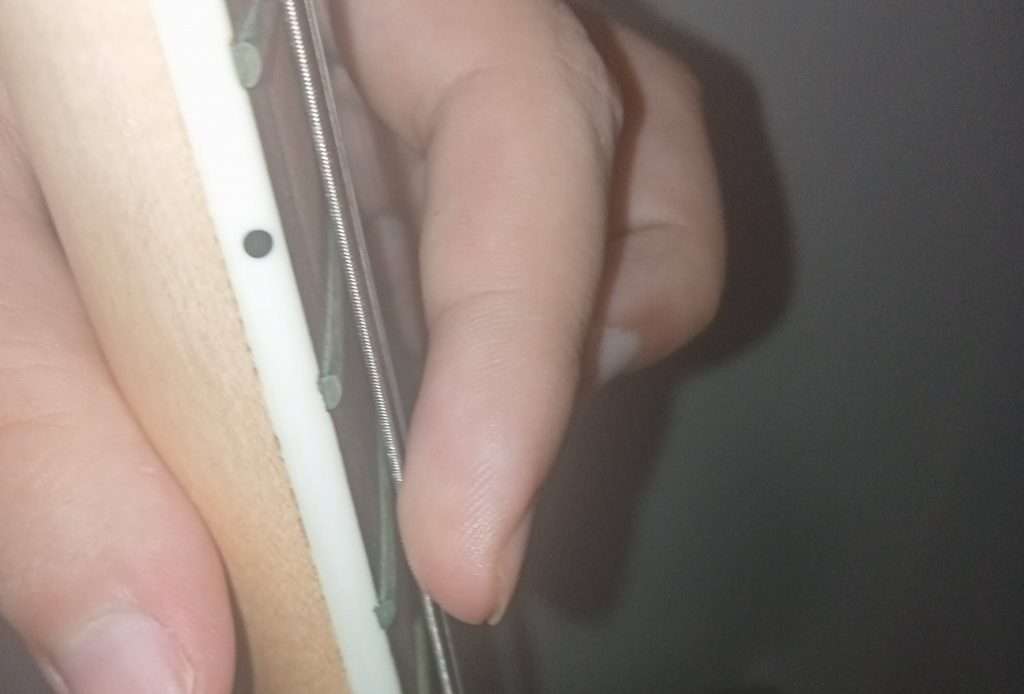 WHY SHOULD YOU USE A GHOST NOTE?
Ghost notes are used because of their percussive-like effect, that you can obtain during strumming (giving a more rhythmic feel to the strumming pattern) or also during a solo/riff for the same reason.
It is actually widely used in tabs thanks to the interesting effect that you get with this particular technique.
THE LESS COMMON MEANING: PALM MUTING
Palm muting refers to the technique of placing the palm of your picking hand on the part of the strings that is near the bridge of the guitar.
This also results in a "stopped" sound and muted effect, but in this case you usually place the palm on all the strings instead of choosing to mute only one string or all the strings together as the first technique explained in this post.
---
RELATED ARTICLES