(this article contains affiliate links that may earn us a small commission at no extra cost for you)
When it comes to the sun-soaked, wave-riding world of surf rock, the right guitar can make all the difference.
From the infectious twang of Dick Dale's legendary riffs to the reverb-drenched melodies of The Beach Boys, surf rock's distinctive sound has left an indelible mark on music history.
In this article, we'll ride the sonic waves and explore the best guitars for capturing that unmistakable surf rock vibe. Whether you're a seasoned surf rock enthusiast or just catching the tide, join us as we dive into a world of tremolo, spring reverb, and the guitars that define the genre's iconic sound.
SURF ROCK GUITAR ROUNDUP: WHAT ARE THE BEST ELECTRIC GUITARS FOR SURF MUSIC?
1. Squier Sonic Strat HSS (cheapest Surf Rock Guitar)

SQUIER SONIC STRAT HSS BLACK PRODUCT LINK
Features
Before delving into my hands-on experience, let's take a closer look at the Squier Sonic Strat HSS Black's features:
Body: Crafted from poplar, it offers a lightweight yet resonant foundation.
Neck: A bolt-on maple neck ensures stability and a classic feel.
Fingerboard: Maple with black dot fretboard inlays for a timeless appearance.
Scale: A comfortable 648 mm (25.5″) scale length.
Fretboard Radius: A 241 mm (9.5″) radius for smooth playability.
Nut Width: A spacious 42 mm (1.650″) nut width for comfortable fretting.
Frets: Equipped with 21 narrow tall frets for easy bending and articulation.
Pickups: Features 2 ceramic single coils (neck and middle) and 1 ceramic humbucker (bridge).
Controls: 1 master volume and 2 tone controls, along with a 5-way switch for tonal versatility.
Pickguard: Single-layer white pickguard adds a classic touch.
Tremolo: Boasts a 6-saddle vintage-style synchronized tremolo with block saddles.
Tuners: Enclosed die-cast tuners provide reliable tuning stability.
Hardware: Chrome hardware complements the black finish.
Color: The sleek black finish adds a touch of elegance.
My Pros and Cons About the Model
Pros:
1. Playability and Comfort: Right out of the box, I was impressed by the smooth, satin-finished maple neck and the comfortable fretboard. It felt like an old friend in my hands, making long playing sessions a breeze.
2. Pickups and Tonal Range: The ceramic pickups delivered a powerful output, especially the humbucker at the bridge, which surprised me with its versatility. Whether I wanted those crisp surf tones or a bit of bite, this guitar delivered.
3. Build Quality: The Sonic Strat HSS Black boasts solid craftsmanship. The poplar body is lightweight yet resonant, and the finish is robust and resilient.
4. Value for Money: For around 180 euros, this guitar punches well above its weight class. With a bit of setup, it can rival instruments five times its price in terms of sound and versatility.
Cons:
1. Tremolo System: While functional, the tremolo system proved a bit stiff, making it less suitable for extensive dive bombs or exaggerated surf rock tremolo effects. However, this is a minor gripe given the price point.
2. Quality Control: Some users have reported minor imperfections in the finish, including scratches and dings. While not a deal-breaker, it's worth inspecting the instrument upon delivery.
3. Tuning Stability: The tuners, while generally reliable, exhibited varying levels of friction. This can be addressed with some adjustments, but it's worth noting.
Guitar Summary
In my experience, the Squier Sonic Strat HSS Black is a standout option for surf rock enthusiasts and guitarists on a budget. With its comfortable playability, versatile pickups, and solid construction, it's an excellent choice for beginners and part-time musicians alike.
While it may have a few minor quirks, such as the tremolo system and occasional quality control issues, these are outweighed by its affordability and overall performance. This Squier model has undoubtedly earned its place as a budget-friendly surf rock companion, delivering an impressive amount of guitar for the price.
2. Fender Player Series Jazzmaster PFPWT

FENDER PLAYER SERIES JAZZMASTER PFPWT PRODUCT LINK
Features in Focus
Before delving into my hands-on experience, let's take a closer look at the features that define the Fender Player Series Jazzmaster PFPWT:
Body: Crafted from alder, this guitar boasts a solid build that promises durability.
Neck: The maple neck features a pau ferro fretboard and a matte finish, ensuring smooth playability.
Fret Count: With 22 frets and a nut width of 42 mm, this Jazzmaster offers ample room for exploration.
Scale Length: A scale length of 648 mm provides a comfortable feel for both chord progressions and intricate solos.
Pickups: Equipped with 2 New Player AlNiCo II humbuckers, this guitar delivers a diverse tonal palette.
Controls: The volume and tone knobs, along with a 3-way toggle switch, grant you precise control over your sound.
Tuning Stability: Standard sealed machine heads keep your tuning stable, even during extended play.
Bridge and Tremolo: The vintage-style bridge with floating tremolo adds expressive possibilities to your playing.
Stringing: Comes ex-factory with Fender .009 – .042 strings in polar white.
My Pros and Cons About the Model
Pros
Playability and Feel
In my opinion, one of the standout qualities of the Fender Player Series Jazzmaster PFPWT is its neck. It's comfortable, smooth, and makes transitioning between chords effortless. The guitar hangs comfortably on a strap, allowing for extended playing sessions without discomfort.
Versatile Tonal Range
The New Player AlNiCo II humbuckers offer a dynamic range of tones. They handle clean, crisp sounds just as well as they do gritty, overdriven tones. Plus, the coil-split function adds versatility, making this guitar a versatile tool for a wide range of musical genres.
Jangly Jazzmaster Character
Despite the humbuckers, this Jazzmaster still retains some of that signature "jangliness" that Jazzmasters are known for. It's a unique blend of warmth and brightness that adds character to your playing.
Cons
Initial Setup Required
As some other reviewers have noted, the Fender Player Series Jazzmaster PFPWT may require some initial setup. The saddles weren't correctly set to the radius, and there were minor issues with the tremolo arm. However, with a bit of time and effort, these issues can be resolved, and the guitar shines once properly set up.
Guitar Review Summary
In conclusion, the Fender Player Series Jazzmaster PFPWT offers a delightful playing experience with a unique tonal character. While it may require some initial adjustments, once set up correctly, it becomes a versatile and expressive instrument. If you're willing to invest a bit of time and effort into fine-tuning, this guitar can be a valuable addition to your musical arsenal. As of my last update, it's a fantastic value for the price, so don't hesitate to grab one before Fender reevaluates its pricing strategy.
3. Fender Vintera 60s Jaguar OT

FENDER VINTERA 60S JAGUAR OT PRODUCT LINK
This iconic guitar has generated a lot of buzz in the guitar community, and I was eager to see if it lived up to the hype. In this review, I'll share my thoughts on this guitar, covering its features, pros, and cons based on my personal experience.
Features
Let's start by taking a closer look at the key features of the Fender Vintera 60s Jaguar OT:
Body: The guitar boasts a classic Alder body, ensuring a solid foundation for its sound.
Neck: The bolt-on Maple neck features a vintage C profile, offering a comfortable and familiar feel.
Fretboard: Crafted from Pau Ferro, the fretboard adds a touch of elegance to the guitar's appearance.
Fretboard Inlays: White dot inlays provide a reference for your fretting hand, making navigation a breeze.
Frets: With 22 frets at your disposal, this Jaguar OT allows for plenty of tonal exploration.
Nut: The synthetic bone nut contributes to sustain and tuning stability.
Nut Width: At 42mm (1.65 inches), the nut width strikes a balance between playability and string spacing.
Fretboard Radius: A vintage-inspired 184mm (7.25 inches) fretboard radius ensures a familiar feel.
Pickguard: The guitar features a stylish 4-ply tortoiseshell pickguard, adding to its vintage charm.
Pickups: Equipped with 2 Vintage Style Jaguar Single Coils, this guitar promises authentic tones.
Circuitry: The Lead Circuit/Rhythm Circuit switch on the upper body horn allows for tonal versatility.
Controls: The Lead Circuit features Volume and Master tone controls, while the Rhythm Circuit offers thumbwheels for neck pickup volume and tone control.
Switches: Three slide switches provide options for Neck Pickup On/Off, Bridge Pickup On/Off, and Normal/Low Cut.
Bridge: The Jaguar Bridge with Mustang Saddle and Vintage Style Floating Tremolo Tailpiece delivers both stability and expressive tremolo effects.
Hardware: Nickel/chrome hardware complements the guitar's aesthetic.
Machine Heads: Vintage-style machine heads ensure reliable tuning stability.
Strings: The guitar comes strung with Fender USA 250L NPS .009-.042 strings.
Color: Available in a stunning Ocean Turquoise finish.
Accessories: A gig bag is included, providing protection and convenience for on-the-go musicians.
My Pros and Cons about the Model
Pros
In my opinion, there are several standout qualities of the Fender Vintera 60s Jaguar OT:
Unique Sound: The Jaguar OT delivers a distinctive sound, characterized by a twangy quality that's perfect for capturing the spirit of the '60s and '70s. It's versatile, handling genres from surf rock to hard rock with ease.
Playability: The guitar is a joy to play, especially for those with smaller, narrower fingers. The comfortable neck profile and ergonomic body shape make for a smooth playing experience.
Stability: Despite the reputation of Jaguar bridges, with some adjustment and the use of at least 10-gauge strings, this guitar maintains tuning stability even with aggressive tremolo use.
Stylish Design: The aesthetics of this guitar are stunning, with chrome accents and the eye-catching Ocean Turquoise finish.
Cons
While the Fender Vintera 60s Jaguar OT has a lot to offer, there are a few drawbacks I noticed during my time with it:
Controls Complexity: The controls on this guitar may be intimidating for beginners. However, a quick online tutorial can help you get the hang of them.
String Replacement: Re-stringing the Jaguar OT can be tricky if you're not familiar with its unique bridge setup. It's essential not to cut too much of the string to avoid wasting strings.
Initial Setup: Some users may find that the guitar requires initial adjustments, especially with the bridge and tremolo system. Quality control may need improvement in this regard.
4. GRETSCH BRIAN SETZER G6120T-BSNSHBK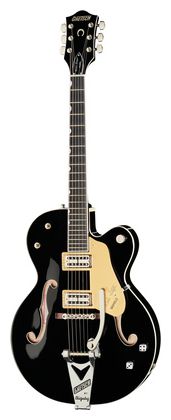 GRETSCH BRIAN SETZER G6120T-BSNSHBK PRODUCT LINK
If you're in the market for a guitar that combines the vintage charm of a 1959 Gretsch with modern playability and exceptional sound, look no further than the Gretsch Brian Setzer G6120T-BSNSH BK. In this review, I'll dive into the features of this signature model and share my first-hand experience with it.
Features Overview
Body Type: Hollow body
Body: Laminated maple
Neck: Glued maple with a Vintage V profile
Fretboard: Ebony with thumbnail fretboard inlays and white binding
Scale Length: 624 mm (24.57″)
Fretboard Radius: Compound 241 – 305 mm (9.5″ – 12″)
Frets: 22 Medium jumbo frets
Nut: Delrin nut with a width of 42.8 mm (1.69″)
Pickups: 2 TV Jones Brian Setzer FilterTrons
Switches: 3-Way pickup switch, 3-Way tone switch
Controls: 2 Volume controls and 1 master volume control
Tremolo: Bigsby B6C tremolo
Bridge: Adjusto-Matic bridge with rosewood lower part (Dalbergia latifolia)
Hardware: Nickel hardware, Gotoh locking machine heads
Pickguard: Gold-coloured plexi pickguard with signature and Gretsch logo
Finish: Nitrocellulose lacquer in Black
Included: Deluxe hardshell case
Factory Stringing: .010 – .046 gauge
Now, let's get into my pros and cons about this model.
My Pros About the Gretsch Brian Setzer G6120T-BSNSH BK
Vintage V Neck Profile
In my opinion, the Vintage V neck profile feels incredibly comfortable in hand. It provides a secure grip and makes playing a breeze. Whether you're playing intricate chords or shredding solos, this neck profile enhances your playing experience.
TV Jones Brian Setzer FilterTrons
The TV Jones pickups are a highlight of this guitar. They deliver a fantastic tone that's rich, defined, and powerful. Whether you're playing clean jazz licks or cranking up the gain for rockabilly riffs, these pickups shine.
Stable and Reliable Hardware
I appreciate the stability offered by the Gotoh locking machine heads and the Adjusto-Matic bridge with a rosewood lower part. The guitar stays in tune remarkably well, even with heavy tremolo use, ensuring your performance remains rock-solid.
Aesthetic Appeal
From its distinctive orange finish to the gold-colored plexi pickguard, this guitar exudes vintage elegance. I particularly like that the nitrocellulose lacquer doesn't reflect light excessively, enhancing its visual appeal.
Final Thoughts
In conclusion, the Gretsch Brian Setzer G6120T-BSNSH BK offers a compelling blend of vintage aesthetics and modern playability. Its Vintage V neck profile, TV Jones pickups, and stable hardware make it a joy to play, and its visual charm is undeniable.
---
CONCLUSION: BEST GUITARS FOR SURF ROCK MUSIC
In the world of surf rock, where sun, sea, and sound converge, the right guitar is your trusty surfboard on a musical journey.
From Fender's iconic Stratocasters to the vintage charm of Mosrite Ventures models, we've explored a lineup of guitars that embody the essence of surf rock: whether you're riding the curls of classic hits or carving new sonic swells, choosing the perfect surf rock guitar is the first step to catching that unmistakable wave of nostalgia and freedom.
So, grab your favorite surf guitar, hit the beach, and let the music transport you to a timeless era of endless summer and endless fun. Surf's up!