(this article contains affiliate links that can earn us a small commission at no extra cost for you)
SUMMARY: BEST TRIPPIEST PSYCHEDELIC GUITAR PEDALS
1. MXR Phase 90 (click here for sound samples)
Pros: Exceptional sound quality, vintage vibe, user-friendly, and solid build.
Cons: May color your sound, lacks versatility for diverse phasing effects.
2. EarthQuaker Devices Afterneath V3 (click here for sound samples)
Pros: Incredible sound, diverse modes, unique Drag knob, robust build, and creative potential.
Cons: Bright LED indicator, minor footswitch noise.
3. Dunlop Germanium Fuzz Face (click here for sound samples)
Pros: Vintage warmth, dynamic sound, versatility, pedalboard-friendly, and solid build.
Cons: Non-linear volume pot behavior, requires AC adapter, volume pot affects fuzz.
4. Electro Harmonix Ravish Sitar (click here for sound samples)
Pros: Versatility beyond sitar sounds, separate sympathetic strings, creative sound processing, user-friendly, comprehensive package, and solid build.
Cons: Not an exact sitar replica, footswitch noise.
5. EarthQuaker Devices Avalanche Run V2 (click here for sound samples)
Pros: Exceptional sound quality, creative versatility, expression control, top-notch build, unique modes.
Cons: Power-hungry, learning curve for some features, specialized use.
6. MXR Uni-Vibe Chorus/Vibrato (click here for sound samples)
Pros: Authentic Uni-Vibe sound, intuitive controls, versatile chorus and vibrato modes, solid construction, noise-free operation, and an affordable alternative.
Cons: Lack of expression pedal input, volume alignment challenge, compatibility with drive pedals.
---
INTRODUCTION
Psychedelic rock is a genre known for its mind-bending sounds and dreamy atmospheres.
In this article, we dive into the world of psychedelic guitar pedals for creating these unique sonic landscapes: these pedals are the secret sauce behind the trippy and otherworldly electric guitar tones that have defined the psychedelic rock genre as a whole.
Whether you're a seasoned psych-rock guitarist or simply curious about expanding your sonic horizons, join us as we explore the must-have tools for crafting mind-altering music.
1. A CLASSIC PSYCHEDELIC ROCK PEDAL: MXR PHASE 90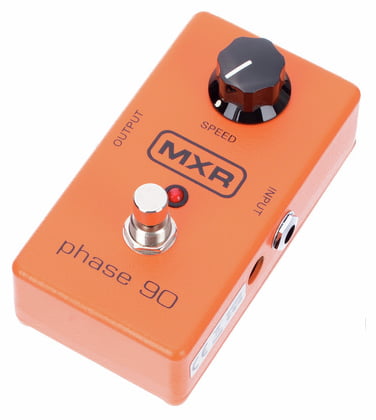 Click here and Listen to Sound Samples
Features at a Glance
Effect Type: Phaser
Vintage Phaser: Replicates the classic sound of the 70s
Control: Speed control for adjusting phasing speed
Construction: Rugged metal casing
Stability: Non-slip rubber base
Power Options: 9V battery or optional power supply
My Pros and Cons About the Model
Pros
1. Exceptional Sound: In my opinion, the MXR Phase 90 delivers a sensational phasing effect that's both sensitive to picking dynamics and rich in depth. It adds a touch of gain to your signal, elevating its volume while maintaining clarity without noise.
2. Robust Build: The pedal's solid construction, featuring a sturdy metal casing, assures durability for the long haul. The LED on/off indicator and the rubber foot control enhance its reliability.
3. Vintage Vibe: The Phase 90 has an unmistakable vintage character that can't be replicated by many modern phasers. It's the go-to choice for those seeking that classic sound.
4. User-Friendly: Its simplicity makes it a breeze to use, and the price point is quite attractive, making it accessible to a wide range of guitarists.
Cons
1. Tonal Coloring: While the Phase 90's unique sound is its strength, it may not be suitable for every style. Some players might find that it colors their sound a bit too much for their liking.
2. Lack of Versatility: The pedal is primarily designed for that iconic Phase 90 sound, so if you're seeking a wide range of phasing effects or advanced features, you might want to explore other options.
3. External Power Placement: The placement of the power input on the side of the pedal can be a bit inconvenient, especially if you have multiple pedals in your setup. It might cause cable interference issues.
2. EARTHQUAKER DEVICES (EQD) AFTERNEATH V3 (PSYCHEDELIC REVERB PEDAL)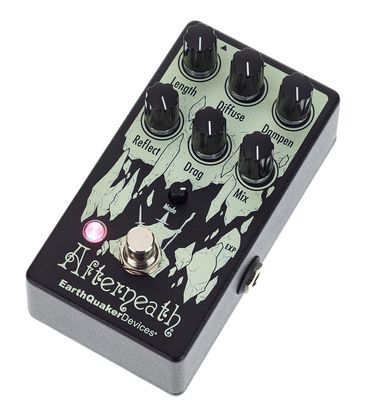 Click here and listen to Sound Samples
Impressive Features:
Let's dive into the features that set the Afterneath V3 apart:
Nine Sound Modes: This pedal offers a range of sound modes, from basic to complex, allowing you to experiment endlessly.
Tails/No Tails Switch: You can decide whether the reverb effect fades out gradually or abruptly when you turn it off.
User-Friendly Switch: The pedal's noiseless switch can function as a simple on/off switch or a momentary one, offering versatility.
Detailed Controls: The Length, Diffuse, Dampen, Reflect, Drag, and Mix knobs give you precise control over your reverb's sound.
Expression Pedal Compatibility: When paired with an expression pedal, the Afterneath V3 truly shines, offering even more creative options.
My Take on the Pros and Cons:
The Positives:
Incredible Sound: The Afterneath V3 excels at creating dreamy, otherworldly reverb that can transform your studio into a sonic wonderland. It's truly captivating.
Diverse Modes: Despite being specialized in "Cave Reverb," this pedal surprises with its versatility. Each of its nine modes unlocks new creative potential.
Drag Knob Magic: The Drag knob, responsible for spacing reverb layers, functions like a delay and adds a unique dimension to your sound. Experimentation here leads to fascinating pitch-shifting effects.
Robust Build and Unique Design: The pedal is built to last and boasts a distinctive design that stands out on your pedalboard.
The Drawback:
Bright LED Light: The LED indicator on this pedal is noticeably brighter than others on my board. It's a minor gripe, but worth mentioning.
In my opinion, the Earthquake Devices Afterneath V3 is a wonderful reverb pedal that offers a wide range of creative possibilities. Whether you're new to reverb or a seasoned pro, this pedal will leave you inspired. It's become an essential part of my setup, delivering the deep cave-like reverb I crave for my music. To all fellow musicians seeking a versatile reverb pedal, I highly recommend giving this one a try.
3. DUNLOP GERMANIUM FUZZ FACE: BEST FUZZ PEDAL FOR PSYCHEDELIC ROCK?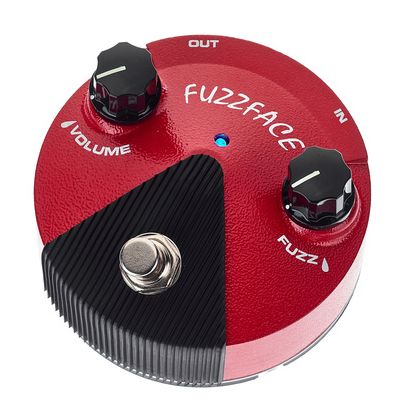 Click here and listen to sound samples
Features
Let's start by dissecting the features that the Dunlop Germanium Fuzz Face brings to the table:
Germanium Transistors: This pedal harnesses the vintage magic of Germanium transistors, faithfully replicating the tone of the '60s.
Volume and Fuzz Controls: Offering simplicity with just two controls, this pedal allows you to dial in your desired level of grit and volume effortlessly.
Bright Status LED: A handy LED indicator ensures you always know when the fuzz is engaged, even in dimly lit venues.
Input and Output Jacks: The 6.3 mm jack inputs and outputs provide reliable connectivity to your guitar and amplifier.
Battery or AC Adapter: You can power this pedal with a 9V battery or an optional AC adapter, giving you flexibility on the gig.
Compact Dimensions: Designed with pedalboard real estate in mind, it won't gobble up your valuable space.
Made in the USA: Dunlop's commitment to quality shines through in the craftsmanship of this pedal.
My Pros and Cons About the Model
Pros
Vintage Warmth: In my opinion, the Dunlop Germanium Fuzz Face nails that warm, analog fuzz tone reminiscent of Hendrix and other psychedelic rock legends.
Dynamic Sound: This pedal impressively maintains its dynamism, even when cranked up, retaining clear definition in the mids and highs where others might turn into sonic mush.
Versatility: Despite its simple control layout, the Fuzz Face offers a wide range of tonal possibilities. It can add edge to your sound without sacrificing clarity.
Pedalboard-Friendly: Its compact size is perfect for pedalboards, making it a practical choice for gigging musicians.
Build Quality: Solid construction ensures durability, and it ages gracefully, gaining character with use.
Cons
Non-Linear Volume Pot Behavior: It's worth noting that the volume pot doesn't behave linearly, making it challenging to achieve a gradual transition into overdrive.
Power Supply Requirement: Unlike the original Fuzz Face, this model requires an AC adapter, which might be a drawback for players who prefer battery power.
Volume Pot Affects Fuzz: When your guitar's volume knob is adjusted, it alters the fuzz level, which may not suit all playing styles.
4. ELECTRO HARMONIX RAVISH SITAR REVIEW (EXOTIC PSYCHEDELIC GUITAR PEDAL)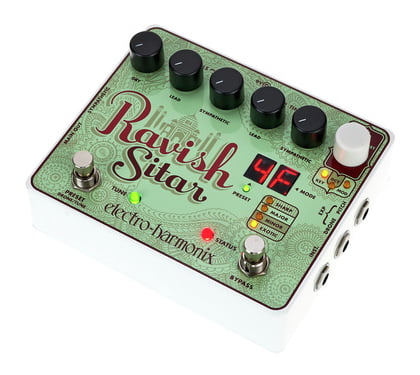 Click here and listen to sound samples
Features:
Here's a breakdown of the key features:
Sitar Emulator: The Ravish Sitar is designed to emulate the distinctive sound of a sitar, and it does so impressively well.
Polyphonic Lead Sitar Voice: This feature allows you to create rich, melodic sitar sounds that can be seamlessly integrated into your psychedelic rock compositions.
9 Presets: With nine presets at your disposal, you can easily switch between different sitar tones and experiment with various settings to find your signature sound.
Intuitive Knobs: The pedal features knobs for Dry, Lead, Sympathetic, Lead, Sympathetic Mode/Preset, making it easy to fine-tune your sitar tones to perfection.
Preset Switch: Switch between presets effortlessly to access your favorite sitar setups on the fly.
Bypass Switch: Toggle the pedal on and off with the bypass switch for instant sound control.
Main Out and Sympathetic Out: Separate outputs for the main and sympathetic strings provide flexibility in routing and sound manipulation.
Dimensions: Compact and pedalboard-friendly, with dimensions of 120 x 145 x 64 mm.
Power Supply Included: The package includes a 9.6 DC-200 power supply, ensuring you have everything you need to start experimenting with sitar-inspired sounds.
My Pros and Cons About the Model:
Pros:
Versatility Beyond Sitar: While the Ravish Sitar excels at simulating sitar tones, it offers much more. You can blend in the sound of simulated sympathetic strings and even create drone chords, opening up a world of creative possibilities.
Separate Sympathetic Strings: The ability to control the simulated sympathetic strings separately adds depth to your soundscapes and allows for creative sound manipulation.
Creative Sound Processing: The pedal's capability to process the simulated strings and drones through a separate effects chain and amplifier adds a layer of versatility, especially for those exploring ambient and experimental sounds.
User-Friendly Design: Despite its complexity, the pedal's thoughtful layout and intuitive controls make it accessible, especially once you've spent some time with the included manual.
Comprehensive Package: Electro Harmonix includes a power supply, which is a practical addition, given that the pedal requires 160 mA.
Solid Build and Design: The pedal's build quality is top-notch, ensuring durability for long-term use. Its vibrant design adds a touch of character to your pedalboard.
Cons:
Not an Exact Sitar Replica: While the Ravish Sitar comes remarkably close to emulating the sitar's sound, it's important to note that it doesn't replicate it precisely. Expect a unique sound that's reminiscent but not identical.
Footswitch Noise: The audible noise from the footswitches can be a drawback in quieter settings, so keep this in mind when planning your pedalboard setup.
5. EARTQUAKER DEVICES AVALANCHE RUN V2 (EQD AVALANCHE): BEST WEIRD DELAY PEDAL FOR PSYCHEDELIC ROCK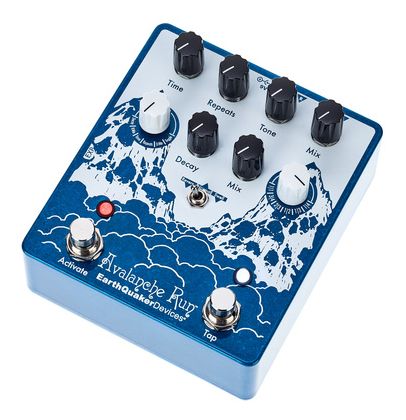 Click here and listen to sound samples
Features at a Glance
Before delving into my personal experience, let's take a closer look at the Avalanche Run's impressive set of features:
Stereo Reverb/Delay: The pedal offers a combination of stereo reverb and delay effects, perfect for creating lush, spatial soundscapes.
Up to 2 Seconds Delay Time: With a delay time that spans up to 2 seconds, this pedal opens up possibilities for both short and extended delay effects.
Selectable True/Trails Bypass: Users can choose between true bypass or trails bypass for seamless transitions between effects.
Footswitch Functionality: The footswitch serves both as a latching and momentary switch, enhancing control during live performances.
Tap Tempo: The tap tempo function allows for precise control over the delay time, ensuring your music stays perfectly in sync.
Versatile Sound Options: The Avalanche Run offers an array of tape and analog delay sounds, along with controls for time, repeats, tone, and mix for both delay and reverb.
Expression Control: The 6-way EXP rotary switch lets you select the expression parameter, adding creative depth to your music.
Tap-Tempo Subdivision: The 6-way ratio rotary switch allows you to choose the tap-tempo subdivision, offering rhythmic versatility.
Delay/Reverb Mode: A toggle switch enables you to seamlessly switch between delay and reverb modes, including reverse, normal, and swell.
Noiseless Relay-Based Circuit: The pedal features a noiseless relay-based soft-touch circuit for clean and precise performance.
Multiple Inputs/Outputs: It includes 2x 6.3 mm mono latches (L/R) inputs/outputs and a 6.3 mm TRS expression input.
Power Supply: The pedal can be powered via a 9 V DC power supply, and it comes with the necessary adapter.
Dimensions: It measures 140 x 120 x 57 mm, making it compact and pedalboard-friendly.
My Pros and Cons about the Model
Pros
1. Exceptional Sound Quality: In my opinion, the Avalanche Run delivers outstanding sound quality. It spans a wide spectrum, from warm analog-like delay tones to pristine HiFi sounds, thanks to its tone control.
2. Creative Versatility: This pedal offers a multitude of creative possibilities, making it a valuable addition to any musician's toolkit. The reverb and delay combination allows for the creation of captivating soundscapes.
3. Expression Control: The EXP rotary switch opens up avenues for experimentation, enabling users to achieve unique and expressive effects, from glitches to time manipulation.
4. Build Quality: Handmade in the USA, the pedal boasts top-notch construction. Its metal housing ensures durability, and the graphics are visually stunning.
5. Unique Modes: The pedal's three modes—normal, swell, and reverse—add distinctive character to your music, especially in the realm of ambient and drones.
Cons
1. Power Requirements: The Avalanche Run is power-hungry, drawing 425 mA. Users may need a dedicated power supply or adapter, and it's not battery-operated.
2. Learning Curve: While user-friendly, some features like accessing the TAIL mode can be a bit tricky, requiring specific steps for configuration.
3. Specialized Use: This pedal shines in ambient and drone music but may not be the best choice for those seeking a straightforward digital delay.