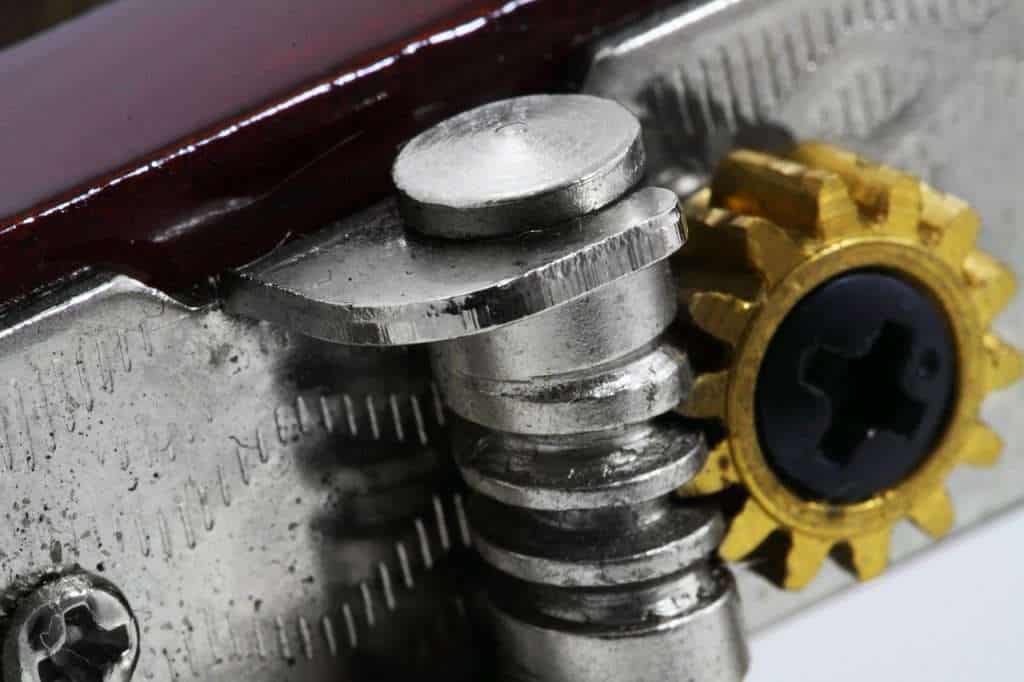 Playing your beloved old guitar is fantastic, but what about the sloppy-moving-parts when you tune the guitar and the awful sensation that you get when tuners are stiff and you need a solid method for how to clean those rusty guitar tuners?
Feeling some resistance when you turn the button (aka machine head, aka that piece of metal that you actually touch when you tune the instrument) is something that's completely normal after a while, but beyond the difficulty in turning the pieces for tuning you have to consider that if gears become stiff they are less capable of holding a stable tuning.
For these reasons, it's better to solve the problem, and in this post we'll see how to do for lubricating classical guitar tuners and acoustic ones (and even better, you can do that for free if you don't have anything at home).
WHY DOES TUNING PEGS BECOME STIFF ON THE GUITAR?
The tuners are actually made of several elements, but the main parts are:
the button (also called tuning head) is the part that you actually move with hands for the tuning;
the pinion gear is the gear wheel that rotates clockwise or anti-clockwise, depending on where you turn the tuning head;
the worm drive, that it's in between the button and the pinion gear, and is that wavy cylinder that embeds into the pinion gear wheel.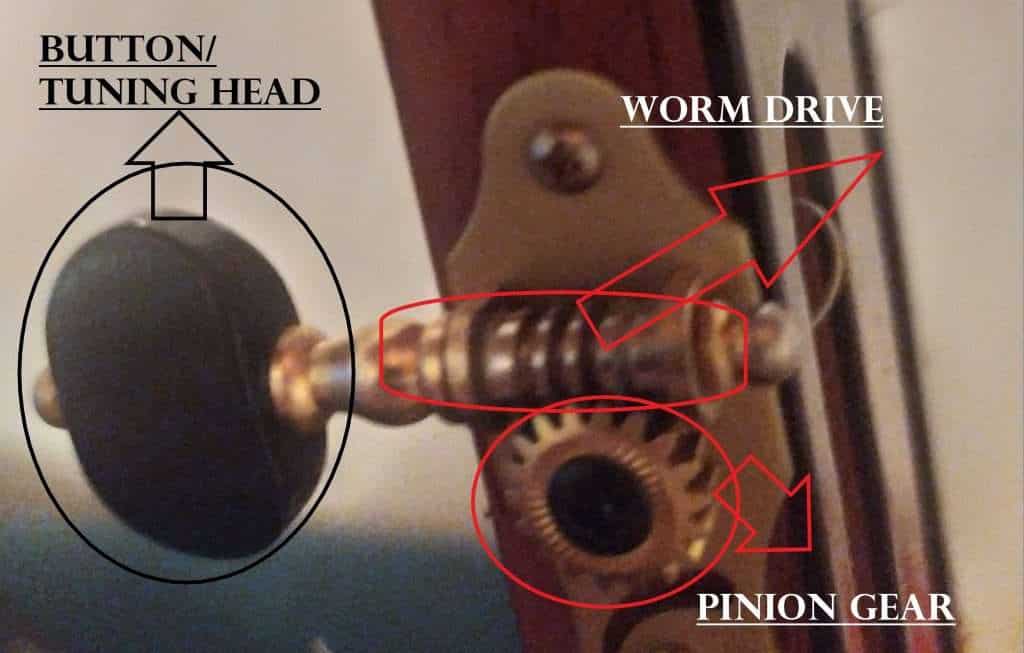 In an acoustic guitar these mechanical pieces are directly exposed to air: when you watch, you can see that they can easily accumulate dust , particles and debris.
That's the reason why, after some time, they start getting slower when you try to move them for tuning, and eventually can even get stuck and hard to move: don't worry, though, because now we'll see how to fix this!
WHAT CAN I USE TO LUBRICATE GUITAR TUNERS?
METHOD 1 : SEED OIL AND COTTON SWAB
This method was the first I learned, but it may not work for very, very hard tuners (for example old instruments), but if you need a solution DIY you can efficiently use this method.
For this, you have to pick a cotton swab and put some seed oil on it, in order to make the head of the cotton swab slightly wet, and then rub it on the pinion gear, the worm drive and the point where these two parts actually fit in (you'll have to use the tuning head and turn the two parts in order to oil all the surface of the mechanics, because otherwise you'll leave the part where the two fit together non-oiled).
METHOD 2: GRAPHITE POWDER
Another method for lubricating guitar machine heads consists on using graphite from a pencil (for this it's better to use the softer ones, the pencil with "b" softness).
You can simply make some graphite powder from a normal pencil and then spread it on the pinion gear and on the wave of the worm drive (where these parts rotates and touch, basically).
In that way you can have a mild lubricant without having to buy something specific, but just like seed oil of the previous method, that lubricant can't always help you, especially in the most difficult situations of stiff tuners.
METHOD 3: LUBRICANTS "GENTLE ON WOOD"
There are quite a bit of lubricant that are very effective in "unblocking" hard-to-move guitar machine heads, but the ones made from oil can works in the first times but then they make it easier for the mechanics to attract even more dirt and debris, so they can actually make it worse after the first times.
For this reason, despite using oil-based products such as the wd40 on guitar tuners works well, they can backfire after the use.
A solution used by luthiers consists in some non-aggressive lubricants such as the ones based on Teflon: the most "famous" one is the Tri Flow, that consists in a very light oil that carries micro-particles of teflon, that remains on the gears for a long time, while the oil (used only for carrying the particles) dries in a short time.
METHOD 4: GUITAR-SPECIFIC LUBRICANTS
The methods we've seen before were all kinda DIY methods, but if you want to be 100% sure (or close to it), you can indeed use guitar specific products, formulated specifically for not harming the guitar's wood while lubricating the tuners.
Usually you can find these products on your nearest guitar store, that can also give you some tips about how to choose and how to apply them, but you can easily find them and buy on Internet (one of those is the Keytone Line Guitar Lubricant).
LUBRICATING ELECTRIC GUITAR TUNERS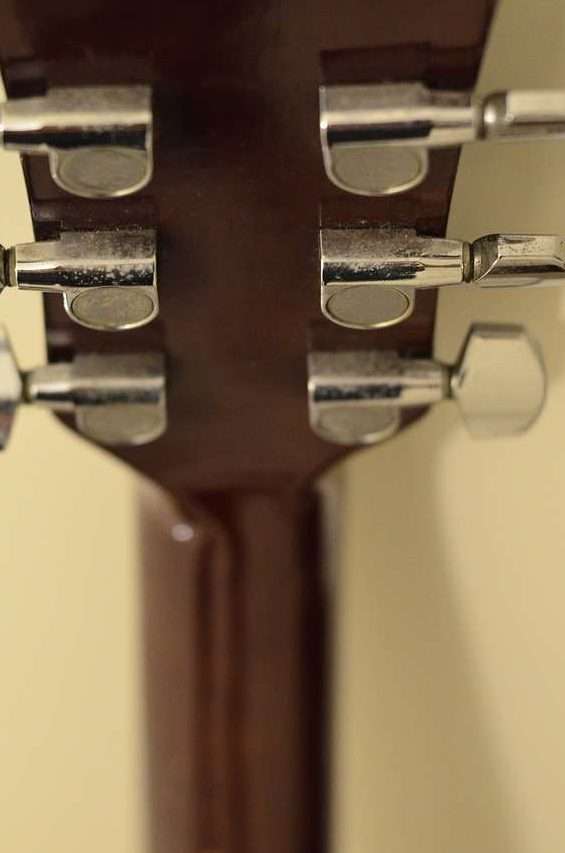 Because electric guitars have covered gears (you can usually see only the tuning heads that you can actually rotate), these have less need for cleaning, but in case you need to do something for the stiff tuners you can use some of the products mentioned before for the acoustic guitar: you can use tri flow (and Teflon based lubricants), graphite from pencils or grease.
The main difference, obviously, is that you need to open the tuners, before the application of the products.
You can see below a video from StewMac that makes you see the process for this:
CONCLUSIONS ABOUT CLEANING AND LUBRICATING GUITAR TUNERS
Stiff tuners, beyond to the difficulty that you feel when turning them, can also give less stable tuning (because of the inefficient work of the mechanic, that has dust or other debris on them and can hold a bit worse the strings).
As you've seen, a quick lubrication of the machine heads can be quite quick (well, in the majority of cases, unless you have a very old guitar or some major mechanical problems), so it won't take you much time to adjust and fine tune (pun intened) your tuners.